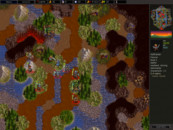 Questi giorni mi sto dando ai giochi open source, oggi vi presento Battle for Wesnoth gioco di strategia a turni (RTS Real-time strategy) simile a qualcosa come Starcraft. Battle for Wesnoth (semplicemente Wesnoth e basta) e' programmato in c++ e completamente libero, tradotto in 35 lingue (grazie alla comunita') e' disponibile per praticamente tutti o quasi i sistemi operativi, si va da Windows a Linux, da MacOSX a Solaris ecc…
Le caratteristiche fondamentali sono:
Possibilita' di costruirsi il proprio esercito partendo da un solo componente e pochi denari
Piu' di 200 personaggi diversi divisi in 6 fazioni, tutti con le proprie abilita', armi e linguaggi distintivi
Avanzamento dei personaggi a seconda dei combattimento ed esperinza maturata
Diverse opzioni di multiplayer compreso il gioco in internet
Tantissime mappe predefinite e infinite in modalita' casuale
Centinaia di campagne aggiuntive installabili via internet (addons)
Possibilita' di creare le proprie mappe e campagne personalizzate
Tradotto in 35 lingue
Disponibile per: GNU/Linux, Windows, MacOSX, BeOS, Solaris, FreeBSD, OpenBSD, NetBSD, AmigaOS4, OS/2 & eComStation
Il gioco in se' si divide in single e multiplayer, la versione single player inizia con diverse campagne predefinite tutte con una loro storia e trama, piu' una varieta' di centinaia di campagne create dalla comunita'. La versione multiplayer e' praticamente infinita, contiene molte decine di server diversi e la possibilita' di ospitare la propria campagna per affrontarsi in LAN o in Internet sul terreno e con le caratteristiche che piu' vi piacciono.
Un gioco infinito per un divertimento senza limiti ma attenzione perche' anche questo crea una fortissima dipendenza, e non provate neanche ad avvicinarvi al multiplayer se prima non vi siete fatti le ossa sulle campagne predefinite, previa eliminazione immediata per scarse capacita' (i giocatori in rete sono dei pazzi assassini, che ancora devo capire come fanno…).
If you enjoyed this post, please consider to leave a comment or subscribe to the feed and get future articles delivered to your feed reader.